Wines of the Eola-Amity Hills
About Drouhin Oregon Roserock
Roses are beautiful moments in time. Rocks are pieces of a greater whole. Drouhin Oregon Roserock is the newest chapter in the Drouhin story, extending from Burgundy's Côte d'Or and Chablis, to the Dundee Hills of Oregon, and now Oregon's Eola-Amity Hills.
Drouhin Oregon Roserock continues a four-generation story that began in 1880 when Joseph Drouhin moved from Chablis to Beaune, in the heart of Burgundy. His son, Maurice Drouhin, expanded the family's estate, including his purchase of the family's signature vineyard, Clos des Mouches. Joseph's grandson, Robert Drouhin, developed the estate even further, buying spectacular premier cru and grand cru vineyards and reestablishing the family's heritage in Chablis. It was also Robert who ventured to Oregon in 1987, when there were barely 50 wineries, but unlimited promise. His children, Philippe, Véronique, Laurent and Frédéric Drouhin are now in charge of the family business worldwide.
The connecting thread is the Drouhin Family itself, a tight-knit group dedicated to land, vine and wine—three things that have sustained them through the years. Now, tradition, experience, consistency, and excellence are their calling cards.
DDO is summed up by the expression "French Soul, Oregon Soil." It's about this family, and this place. The combination of the Drouhins' 135 year histzzzory of winemaking and this exceptional vineyard in the Eola Hills is something special and widely anticipated.
The Drouhin Family purchases only exceptional land, and brings their personal, generational approach to Roserock's farming. Master viticulturalist Philippe Drouhin, working with acclaimed vineyard manager Leigh Bartholomew, nurtures grapes to the peak of perfection, and ensures the land is sustainably farmed in accordance with LIVE (Low Input Viticulture & Enology), an independent certification body which meets strict international standards for environmentally and socially responsible winegrowing. Looking ahead, Philippe is digging into Roserock to understand the essential nature of each block and each row.
At Roserock, as at DDO, Véronique serves as head winemaker, bringing her decades of experience and highly focused palate to these new Drouhin wines. As at DDO, these wines will reflect the unique characteristics of an outstanding terroir.
Roserock reflects the singular Drouhin approach. It's a matter of family pride: pride in grapes that are grown responsibly with seasoned expertise; in winemaking that celebrates patience and nuance; in wines that are elegant, balanced, complex and age-worthy—and, at their core, defined by finesse.
The Drouhin Family's bold decision to buy land in the Dundee Hills in 1987 is considered a seminal event in the history of the Oregon wine industry, forever establishing the Burgundy/Oregon connection. Roserock reaffirms the family's commitment to Oregon, while creating an exciting new chapter of the Drouhin story.
Roserock Winemaking Overview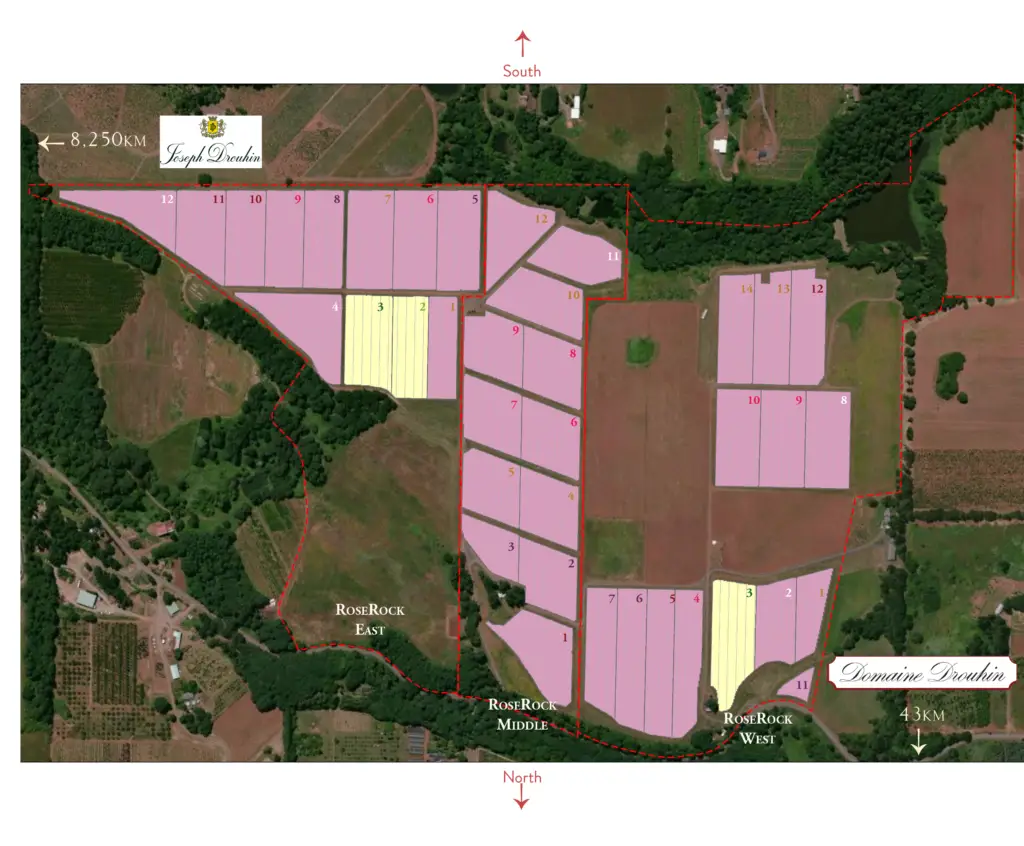 The wines were crafted with the usual Drouhin techniques: marrying balance, harmony, finesse and character.
The Chardonnay was fermented and aged half in steel and oak. 
The Pinot Noir was aged for 11 months in approximately 20% new French Oak. There wasn't any whole cluster used during fermentation, and we were very excited to ferment each block separately to better understand the personality of each parcel.
Vineyard Facts:
Acquired in December, 2013, after a lengthy search for exceptional vineyard land
Eola-Amity Hills AVA, in Oregon's Northern Willamette Valley
111 planted acres of Pinot Noir (35 blocks)
11 planted acres of Chardonnay (3 blocks)
Elevation range: 550' – 750'
Soils: 100% volcanic (Nekia, Jory, Ritner)
Sustainability Certification: LIVE (www.livecertified.org)
Drouhin Family Hallmarks Found at Roserock
The family approach
Experience, patience, authenticity
Elegance, balance, finesse, complexity
An extension of the family's deep connection to Oregon
A truthful reflection of the site
A commitment to continuous improvement
French Soul, Oregon Soil