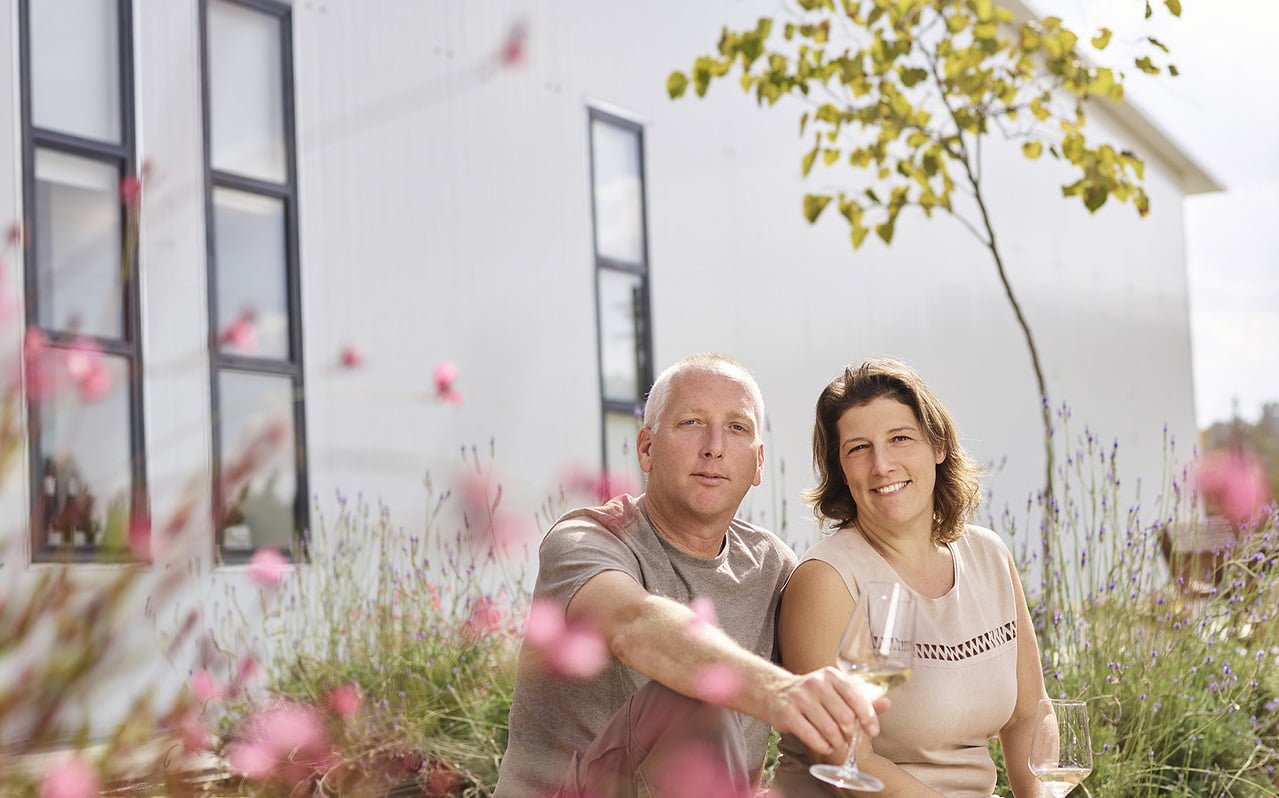 Non-Kosher Wines from the Judean Hills of Israel
SPHERA
A boutique winery of exquisite white wines from the Judean Hills of Israel
Expertise begins with focus
We decided to concentrate solely on white wines.
We chose the beautiful Judean Hills as the place to plant our vineyards, to build a winery, and to call our home.
Like a magnifying glass, our focus on whites allows us to zoom in on the fine details and discern the slightest of subtleties.
Precision is a key to creating fine white wines. Our work is natural and transparent, every little nuance makes an impact.
White wine making is all about balance
We follow a detailed work methodology, but at the same time we pay close attention to our vineyard, keeping our senses alert and deciding when to take a step back to allow nature to take the lead.
We believe in a clear and minimalistic approach that brings out the fruits' true essence, while ensuring wines that are layered with rich and complex flavours.
We continue to search and evolve, using innovative technologies and unique growing techniques. Even so, our feet remain rooted and our pace is measured in order to maintain uncompromising excellence in our work.
This is SPHERA
A clear, full circle that moves in harmony.
It's our philosophy for both making wine and living our lives.
Savor Exquisite White Wines At This Winery In Israel's Judean Hills
Sphera is the only winery in Israel dedicated exclusively to white wines.
In a land where red wine reigns, winemaker Doron Rav Hon excels at creating exceptional white wines that everyone loves. Located in the Judean Hills of Israel, a 45-minute drive from Jerusalem, Sphera Winery is a family-run boutique winery featuring award-winning wines crafted with great love and care.
The word "sphera" means a clear, full circle that moves in harmony. The winery uses only grapes produced in their vineyards throughout the Judean Hills region, an emerging viticultural area. The plants are personally overseen by Doron himself; he takes great measures in protecting them from the Mediterranean heat and ensuring their quality before fermentation.
Fine Wines from the Judean Hills
Our Vineyards
We planted our vineyards along the valleys of Givat Yeshayahu. The annual rainfall is about 510 millimeters per year, and a cool breeze blows through the creek during the better part of the day.
Because of the cold air that sinks to the valley floor, the area remains relatively cool during the day and the temperature drops further at night. The end result: a dry climate and an excellent temperature spectrum, ideal for growing grapes.
We believe in sustainable agriculture – a method combining traditional growing with aerated healthy vines, minimal intervention, and careful consideration for the vineyard's natural surroundings.
Givat Yishayahu W.
Soil Type: Terra Rossa, Limestone
Vineyard Age: 4-8 years
Yield Per Dunam: 700-900 kg
Grape varieties: Chardonnay, Chenin Blanc, Semillon
Winegrowers: Shmuel and Yair Tamir
The Western vineyard is planted along the Khlil Stream. The soil is Alluvial, with a high ratio of rock. The soil in these vineyards is quite deep and well drained – allowing the vines to reach satisfactory depth.
The double trellising method of 440 plants per dunam creates density in the upper growth of the vine, providing a natural shade for the grapes that allows them to mature in optimal conditions.
Givat Yishayahu E.
Soil Type: Terra Rossa, Limestone
Vineyard Age: 12-25 years
Yield Per Dunam: 700–900 kg
Grape varieties: Chardonnay, Rossanne, Riesling
Winegrowers: Shmuel and Yair Tamir
The Eastern Vineyard is planted along the curves of the Shua Stream. Each parcel has different characteristics based on its location. This enables us to choose the optimal conditions for each varietal.  Rocky soil for the Riesling and Roussanne, Terra Rossa for the Chardonnay. 
Shua Stream has high side walls that protect the vineyard from direct sunlight in the morning and afternoon. This vineyard has traditional trellising at a density of 220 plants per Dunam.
Sphera is a member of

The Judean Hills Quartet
The Judean Hills Quartet is a group of artisanal wineries which provide a window into the rebirth of a beautiful wine region with a deep history. They tell the story of the renaissance of the Judean Hills, which is leading Israel to new levels of quality.  The four wineries have contrasting personalities and different wine styles, but they each share the unique terroir of the area. The Quartet's purpose is to educate and explain about this fascinating, new quality wine region, in the same place where wine was made in ancient times