Fine Pinot Noir from the Willamette Valley
About Caballus Cellars
Our friendship started in the early 80's back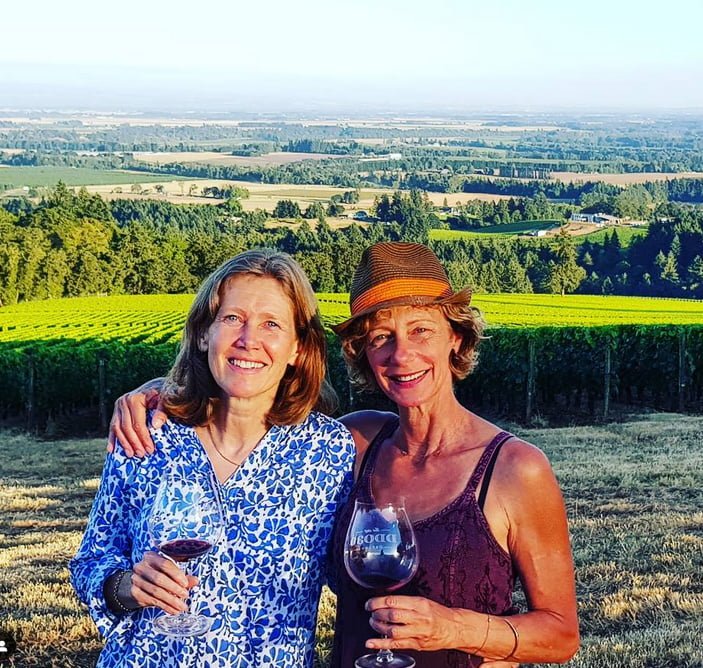 in Burgundy where we met at the local horse riding club of Beaune. Soon after, we realized that we have two common passions: horses and wine.
For the following 10 years, still riding, we made wine together both in Burgundy and Oregon, working for Véronique's family winery Joseph Drouhin and Domaine Drouhin Oregon.
Today, Isabelle Dutartre is the winemaker of DePonte Cellars and Véronique Boss-Drouhin at Domaine Drouhin. 
We hardly find time to ride anymore but we have raised 3 beautiful children each.
Our dream to make wine together has been in the works for 30 years. We have finally done it! 

French Connection
Caballus Cellars canters across the Oregon wine finish line
By L.M. Archer
Forty years of friendship informs Caballus Cellars, a joint project between two of Oregon's most esteemed winemakers, Véronique Boss-Drouhin of Domaine Drouhin Oregon and Roserock Oregon, and Isabelle Dutartre of De Ponte Cellars.
They met while girls in Beaune, France, bonding over a mutual love of riding horses. Incidentally, the word Caballus is horse in Latin. A friendship developed, deepened by a stroke of serendipity.
"We liked each other and had fun riding," recalls Véronique Boss-Drouhin. "But then one day, it's harvest time, and I see Isabelle in the winery." (At that time, Domaine Drouhin Oregon did not exist. Robert Drouhin, Véronique's father and CEO of Burgundy's Maison Joseph Drouhin did not establish Domaine Drouhin Oregon, or DDO, until 1987, followed by Roserock Oregon in 2013.)
"What are you doing here?" Boss-Drouhin asked.
"I was hired by Monsieur Robert Drouhin to come and help for harvest," responded Dutartre, who was studying enology at the time. "What are you doing here?"
"Well, I happen to be part of that family," Boss-Drouhin said. "And I'm helping, too." Dutartre so impressed Robert Drouhin he hired her full time to run the domaine's lab, a job she held ten years.