The Wines of the Dundee Hills
About Domaine Drouhin Oregon
Domaine Drouhin has been on the viticultural cutting edge in Oregon since their first vintage in 1988, and continues to set the pace.
Winemaker Véronique Drouhin-Boss' roots go deep into her family's 13th century cellars under the streets of Beaune, the heart of Burgundy. She represents the fourth generation of winemakers from this venerable wine family of France, but it is here in Oregon that her skills and passion are bringing forth some of the most sublime Pinot Noir and Chardonnay produced anywhere. With centuries of Burgundian winemaking experience flowing through her blood, Véronique has lovingly crafted every drop of wine produced at Domaine Drouhin Oregon since the first vintage in 1988.
F

ROM THE

C

AVES OF

B

URGUNDY TO THE

D

UNDEE

H

ILLS OF

O

REGON

The Story of Our Winery Is the Story of the Drouhin Family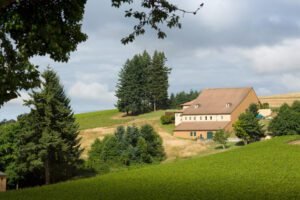 The Drouhin Family's winemaking roots run deep, having taken hold in Burgundy's best vineyards more than a century ago. Through the years, there has been a very clear link, a continuum, that inhabits Maison Joseph Drouhin, and now Domaine Drouhin Oregon.
Our estate winery in the Dundee Hills creates elegant, fine Pinot Noir and Chardonnay wines forged from our family's tradition of fine winemaking in France. For more than 25 years, the Drouhin Family has brought a wealth of hard-earned experience to their vineyards in the Willamette Valley, just southwest of Portland, Oregon.
"Skills get more refined, methods evolve, but what's important is what is transmitted from generation to generation: The search for excellence, the intellectual curiosity, the sense of values, passion, the respect for terroir." — Robert J. Drouhin
Our Oregon estate was established in the late 1980s, but our winemaking roots were planted in Burgundy a century earlier, when Joseph Drouhin moved from Chablis to Beaune, and in 1880 founded Maison Joseph Drouhin. He was succeeded by his son, the brilliant Maurice Drouhin, who dedicated his life to making fine wine. In 1957, Robert Drouhin became the third generation to run the business. He first "discovered" Oregon on a 1961 visit, and then again during the 1979 and '80 blind tastings in Paris and Burgundy (the latter of which Robert organized) that put Oregon wines on the world map. Robert recognized that it was
Oregon, more so than California, whose soils and climate could unlock the complexities and potential of Pinot Noir and Chardonnay in the United States.
In 1986, Robert's daughter Véronique came to Oregon after achieving a masters diploma in enology. She worked that harvest with three families, the Letts (Eyrie Vineyard), the Casteels (Bethel Heights) and the Adelsheims (Adelsheim Vineyards). That first impression was profound, and helped to form the bond between the Drouhins and some of the founding families of Oregon wine. It can be fairly said that Oregon's deep sense of community was a powerful magnet.
In 1987, Robert Drouhin was invited to participate in the first International Pinot Noir Celebration, and on that trip, he decided to purchase land in the Dundee Hills. Where there had only been Christmas trees and wheat, the Drouhin's began planting their first vineyards in Oregon. At the same time, Robert nominated Véronique to be the newly christened DDO winemaker, and her brother Philippe Drouhin took responsibility for viticulture. In 1988, DDO produced its first vintage, from purchased grapes, and in 1989 built the landmark, four-story gravity flow winery.
Véronique Boss-Drouhin
Our winemaker extraordinaire produces elegant Pinot Noir and Chardonnay on both sides of the Atlantic.
Véronique Drouhin-Boss, the fourth-generation winemaker of the Drouhin family, has lovingly crafted every drop of wine produced at Domaine Drouhin Oregon since our first vintage in 1988. She also now oversees the winemaking at Maison Joseph Drouhin in Burgundy, producing some of the world's finest Pinot Noir and Chardonnay wines on both sides of the Atlantic.
Véronique's interest in wine and the family business began when she was young, and blossomed under the tutelage of father Robert Drouhin. In 1986, she graduated from the University of Dijon with an advanced degree in enology, and decided to venture to Oregon to expand her experience and learn more about the fledgling industry that was beginning to take root in the Willamette Valley. Véronique interned that year with Adelsheim Vineyards, Bethel Heights, and Eyrie. She has returned to Oregon every year since then to capture the essence of what nature provides in our unique estate vineyards.
In many ways, Véronique embodies the essence of Pinot Noir — spirited, graceful, and feminine. Her wines at Domaine Drouhin have always been hallmarked by elegance, finesse, purity, and the capacity to improve gracefully with age.