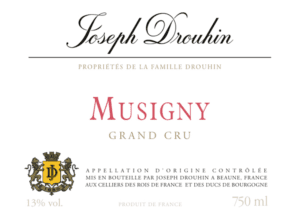 Maison Joseph Drouhin
Beaune, France
History
Joseph Drouhin always had a passion for wine, and in 1880 in Burgundy, he founded the independent company that still bears his name.
Today, his great grandchildren, Philippe, Véronique, Laurent and Frédéric, run the family-owned company from their ancestral home.
Vineyards
The Joseph Drouhin Domaine was assembled parcel by parcel over the years and today comprises 73 hectares (182.5 acres) of vineyards in Côte de Nuits, Côte de Beaune, Côte Chalonnaise and Chablis. 
The domaines owned by MJD are organic and they are the largest estate certified Ecocert in Burgundy.
More than two thirds

 

of the vineyards are classified as Premier and Grand Crus.
It is one of the most important domaines in Burgundy.
Winemaking
The vinification is traditional with as little interference as possible.
Our care takes into account the origin of each wine: stainless steel vats to enhance fruit and freshness
Drouhin Vaudon Chablis
Chichée, France
History
The name "Moulin de Vaudon" comes from the watermill nearby, owned by the Drouhin family and straddling the Serein River
In the sixties, when the Chablis vineyards were all but abandoned, Robert Drouhin recognized the potential of this region which had been ravaged by phylloxera a century before.
He was one of the first Burgundy propriétaires who set about revitalizing the area.
Vineyards
Joseph Drouhin owns around 38 hectares (95 acres) of vines in Chablis AC, Premier cru and Grand cru
The Kimmeridgian limestone contains millions of tiny marine fossils embedded in a kind of whitish mortar which may have once been the bottom of the sea, hundreds of million years ago.
This marine origin gives the wines of Chablis their unique flavor.
Biological cultivation since 1990 and biodynamic cultivation since 1999.
As of today, it is the largest estate in Chablis entirely under this kind of cultivation.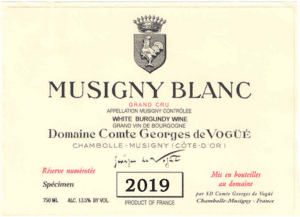 Domaine Comte Georges de Vogüé
Chambolle-Musigny,  France
History
Domaine Comte Georges de Vogüé

 

traces back to 1450 and the Chambolle vines of the ancestor Jean Boisson.
The estate is now directed by Claire de Causans and Marie de Ladoucette, the grand-daughters of the Comte Georges de Vogüé.
The estate is runned with the prestigious team: oenologist and winemaker Jean Lupatelli, vineyard manager Eric Bourgogne and sales director Jean-Luc Pepin. .
Vineyards
The domaine owns 12.43 ha in Chambolle-Musigny with most of the estated located in Musigny.
Le Musigny is located Sputh of the village Chambolle-Musigny and borders on the Grand Cru de Vougeot,
Echezeaux and to the Premier Cru Les Amoureuses (North East)

Musigny is the only Grand Cru vineyard in Cote de Nuits for both white and red wines production, even though red wine dominates by 90%.

Lutte raisonnee (literally reasoned battle) is key at the Domaine, along with the 'confusion sexuelle' practice.