Description
PACO & LOLA Albariño
Limited Edition Rainbow Label
The freshest, most fun and chic Albariño of the Rías Baixas. It makes you feel good to be alive and gets everyone smiling whenever a bottle is cracked open!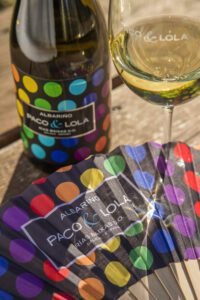 DESCRIPTION:
Why name a wine Paco & Lola? Why not?
Wine doesn't have to be boring or serious.
Wine can be attractive, seductive, fresh and fun.
A wine like Paco & Lola, Spain's most stylish white wine, can do things a little differently.
GRAPE VARIETY:
100% Albariño sourced from the winery's own vineyards.
FOOD PAIRINGS:
Paco & Lola make a Divine Duo with sushi, pastas, fish, rice dishes, white meats, seafood, fish and shellfish stews.
Serving temperature: 48-52ºF
TASTING NOTES:
Appearance: attractive straw color with hints of green in the rim. Clean and brilliant.
Nose: very expressive and harmonious nose. Fine notes of white fruit (green apples, pear) and lemony aromas. Hints of herbs (basil) and flower blossom base notes. Surprising aromatic intensity.
Palate: clean and textured. Seductive exotic palate of pineapple and mango intermingled with refreshing citrus flavors amplified by minerally accents. Silky but yet full bodied, with long lingering finish. Round and very tasty.
2022  |  Tech Sheet  |  POS  |  Label  |  Bottle Shot
2021  |  Tech Sheet  |  POS  |  Label  |  Bottle Shot